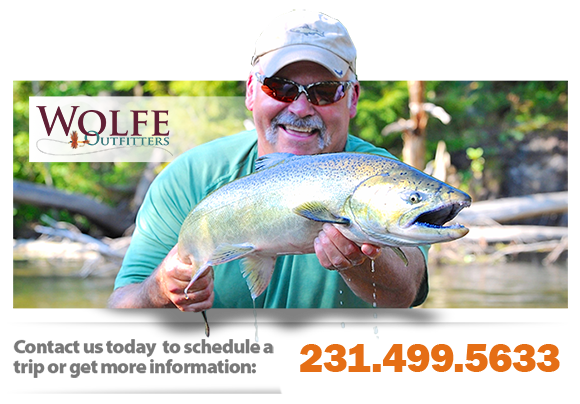 Winter Steelhead Fishing
Book your Michigan winter steelhead fishing trip now!
Winter is a great time to fish for steelhead in Michigan! Steelhead provide exciting winter fishing trips in northern Michigan. These fighters make blazing fast runs, leap, and will strike savagely even in cold temperatures. Steelhead remain in the rivers after their fall salmon roe feast, creating great opportunities for winter river fishing. Winter steelhead guided fishing trips are a terrific way to enjoy the beauty and serenity of Michigan's rivers.
Winter Steelhead Fishing with Wolfe Outfitters
Winter steelhead are different from fall or spring steelhead. They wait in slower, deeper holding water to conserve energy. Wolfe Outfitter offers guided fishing trips on both fly and conventional gear for Michigan winter steelhead depending on each customer's preferences:

For fly anglers, simple and highly effective beads are a preferred choice for our guides. Additionally, fly anglers can use stone fly nymphs for steelhead holding by gravel. Stoneflies are a proven way to tempt steelhead during their long winters. Also, for our fly anglers, we offer the option to use two-handed rods for switch rod or spey techniques, fishing the waters through the use of cross-current drift. The beautifully colored flies used can yield heart-stopping strikes.

Book Your Winter Steelhead Trip Now Buy a Gift Certificate




For conventional gear anglers, Wolfe Outfitters uses cured salmon or steelhead spawn. The spawn are tied into various sizes and colors of mesh spawn bags. Spawn bags can also be tied so that they are neutrally buoyant via incorporating small Styrofoam balls. Other spawn bags are meant to sink. Whether rolling spawn along the bottom or under a float or back-bouncing - the technique dictates the type of spawn bag needed. Anglers can use inline spinners for remarkably vicious strikes. Spinners are effective in slightly warming water, when the fish are more active in the true wintry cold. Additionally, beads are an incredibly deadly way to target steelhead in the winter. Every day on the water is different - the exact bead color and size may vary. It's hard to pinpoint exactly what it is about plastic beads that steelhead find so attractive, but there is no doubt that they eat them aggressively.

---
Winter steelhead trips can be done from either drift boats or jet-sleds.

Most of Wolfe Outfitters' winter steelhead fishing trips will be on the Big Manistee River. The Betsie and Platte Rivers are also great choices if open water is available. Traverse City's Boardman River may also be an option late in the winter, depending on the rate of thawing. In general, the Manistee River has the largest flow, and creates the best opportunities for winter steelhead guided fishing trips. The Big Manistee also offers a fantastic brown trout fishery to go along with the steelhead opportunities.

What to Wear: Properly layered clothing is essential. Jeans are not recommended, because they do not hold heat well. Thermal underwear is nearly a must, with added insulated layering on top. Gloves and hats are highly recommended - warm extremities are crucial to having a great time on the winter water. We keep propane heaters on the boats - but once you get chilled, it can be difficult to heat up again and stay warm and comfortable. To ward off the cold, it is better to look like the Michelin Man!